Introduction and plan overview
6 months, 2 hours per day, $10.000 profit per month. I want to achieve that with the "Partnership to Success" (P2S) program by John Thornhill. Can I do that? I think I can. Will I do that? I've got no idea. Let's see where I'm at in the next 6 months, at the end of March 2022. I hope to start banking $10K per month 6 months from now.
This Challenge or Experiment, however you prefer to call it, is to show people that it is possible to succeed with affiliate marketing working only a few hours a day in your spare time. All I have to invest is $197 per month for the first few months of the course as I chose this version of payment. However, you can save money and choose a one-time payment (You are covered with a 6-month refund policy so you risk nothing).
Bear in mind, I have nothing to start with, except the knowledge John shares with his P2S members. I have no mailing list – zero subscribers, zero affiliates, limited experience as a product vendor, and pretty much no experience as an affiliate. I succeeded in running push notifications ads as a media buyer. As an affiliate, I made maybe a hundred bucks in my life. So I'm starting from a point where most beginners start.
I'm starting from ZERO
I'm going to start John's training tomorrow – 30th of August, but I'm already impressed with the quality of the training, and how much value he gives. I'm gonna write an update after one month so stay tuned.

What is it about?
Partnership to Success program is different from most courses of this type on the market. It doesn't promise you millions overnight… What I love ❤️ about this course is that it teaches you how to build a full-time stable 6 or even 7-figure online business – and it shows you exactly how to do that step-by-step. P.S. Yes, there are students that earn 7 figures after John's course (just to be clear: 7 figures means at least ONE MILLION DOLLARS per year)!
In short, in this course you'll learn how to build a stable 6 or even 7-figure online business by creating your own products (it's easier than you think!), promoting products of other vendors as an affiliate, and build a mailing list on the way – the most valuable online asset. You'll also learn how to build your own blog and why you need it, how to drive free traffic, and much more. But again, the main thing is to create your own products, and secondarily, sell as an affiliate.

Is it worth it?
The value is HUGE! Here's a quick overview of what John offers: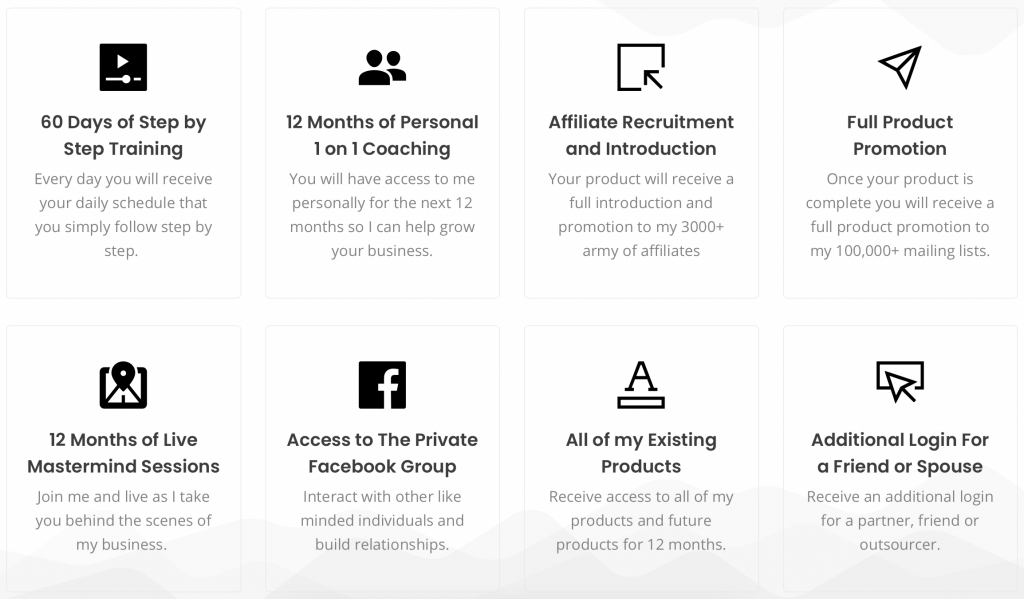 "Full Product Promotion" alone is worth THOUSANDS of dollars!
…or at least $3.000, if you create only two products in the next 12 months. Let me explain. John says he will promote your product to his 100.000+ mailing list. A very conservative email click-through rate is around 3%, which means 3.000 people will open the email, click a link, and see your offer – they are potentially interested in your product or offer. If you had to pay for it by buying a solo ad promotion, it would cost you around $1.500 per single email blast ($0.50 per click multiplied by 3.000 clicks). Except, John will promote every product you create. This thing alone is worth the money you pay for the course. In fact, this bonus alone convinced me to buy the course.
You can also ask John anything anytime either via helpdesk ticket or even by talking to him over the phone. Yes, you have a 7-figure mentor at your fingertips. Guys like John charges for such service even $1.000 per one-hour call!
Realistically, the Partnership to Success is worth WAY more than John charges for it. I would say $10.000 would be a very fair price. The actual price is a bargain! The value John gives in his P2S program is ENORMOUS!
Anyway, this is supposed to be an introduction to my journey, not a full product review, even though I can keep writing about all the benefits and value for the next hour 😅 I encourage you to check out John's FREE webinar and see how you can build an online empire in record time. Here's the link:
http://johnwebinar.samzadworny.com 🔥🔥🔥 (if you want to LEARN)
If you're looking for the best affiliate program out there, converting like crazy, where just one click could result in $3,136.50 per buyer. Here's your link:
https://affiliates.samzadworny.com 🔥🔥🔥 (if you want to EARN while you LEARN)